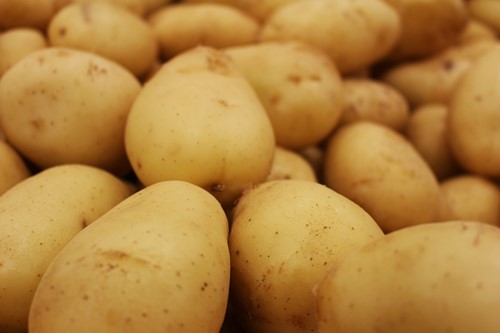 You don't have to go out to enjoy the same savory finger-foods. Bring the party to your own kitchen by making miniature versions of classic potato skins. The ingredients and process are simple and the smaller size makes these snacks the perfect appetizer for a BBQ, picnic or other fun meal at home.
Ingredients & Supplies
1 pound of small yellow potatoes
Olive oil
Sharp cheddar cheese (shredded)
Bacon (cooked and crumbled)
Half a cup of sour cream
2 tablespoons of fresh chives (chopped)
Conventional oven
Baking sheet
Parchment paper
Knife
Cheese grater
Tongs or other long-handled utensil for safe and easy flipping
Process
Preheat your oven to 425 degrees. While it's heating, clean and dry the potatoes.

Put the clean potatoes in a large mixing bowl and slowly add the olive oil. Mix or toss the potatoes around to coat them in oil before arranging them on a single baking sheet. Use parchment paper for easier cleanup.

Bake the potatoes for 18 minutes or until tender enough to slice. Then, take them out and let them cool for at least 30 minutes.

Once your potatoes are cool, slice each one in half lengthwise. Use a spoon or fork to scoop out most of the potato flesh to create a thick shell or boat shape. You can set aside the unused potato flesh for something else like potato salad, mashed potatoes or a scramble.

Turn the oven temperature up to 450. Arrange the potato skins onto a baking sheet with the hollow sides facing down and bake for 10 minutes. Flip the potatoes over and bake for another 10 minutes or until crispy.

Take out the potato skins and carefully sprinkle with cheese. The skins might be hot enough to melt the cheese, but if not, return them to the oven (still at 450) for 1-2 minutes. Add the bacon crumbles.

Add a spoonful of sour cream to each potato skin and then garnish with the chopped chives.
Substitution Ideas
Once you know this basic formula, you can get creative with the recipe. For a meatless version of these delicious potato skins, try adding chopped mushrooms. You can also use different varieties of cheese as long as you adjust melting time accordingly. Some other great substitutions include pepper jack cheese, chopped jalapenos, sun-dried tomatoes or shredded chicken. Customize this simple recipe for a savory, crowd-pleasing appetizer perfect for any home gathering.